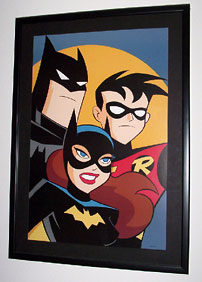 Three for Justice
This was the first Piece that Mrs.SGG and I purchased at the WB! Store... and what got us hooked in comic art purchasing.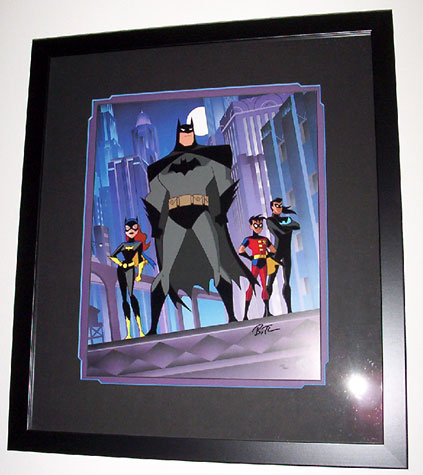 Gotham Knights
Probably one of my favorite pieces. I love that all the characters are here.
It's also signed by Bruce Timm and the Certificate is signed by Kevin Conroy. He was there when we bought the piece and was a super nice guy. Yelled "I AM BATMAN!" to get the attention of the crowd, lol.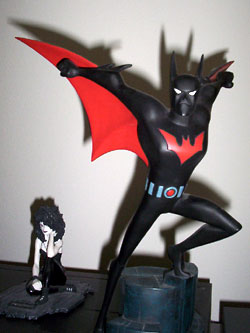 Batman Beyond Maquette
Batman Beyond Maquette seemed like it was ready to fly away... we had to have it.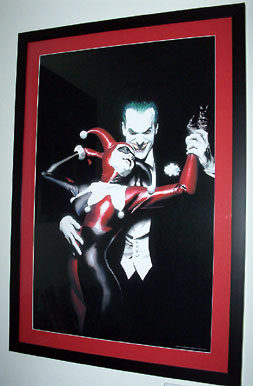 Harley Quinn #1 poster
Bought the poster when i was still managing the comic store. Cost a nice penny to frame but it looks so cool.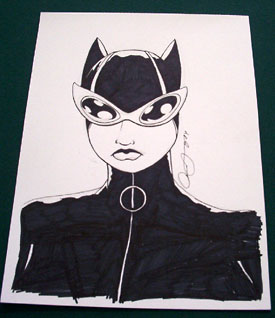 Catwoman sketch by Austin Janowsky
I had this sketch done just this week-end at a local comic convention.
I was going to get Dick Giordano to draw her but he was sick.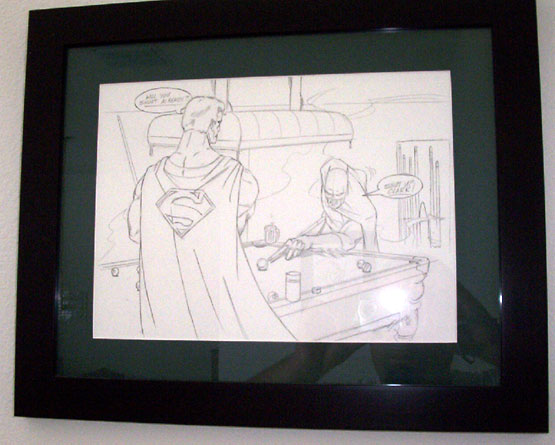 Batman and Superman playing Pool by Shawn Surface
Had this piece done at MegaCon 2003.Not a known artist, but his stuff was insane.
btw, Superman's bubble says "C'mon shoot already" and Bats replies "Shut UP! Clark!"
Mrs.SGG had given me the idea to get billiard related sketches so that we could put them in the billiard room (formerly known as the formal living room)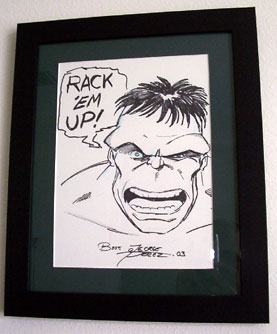 Hulk by George Perez
Explains itself, right ? Done at MegaCon 2003
George is a class act. I had a chance to sit with him before the con started and just chat.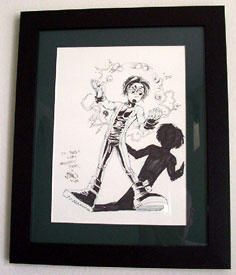 Impulse by Ethan Van Sciver
Again, at MegaCon 2003. Ethan is a great artist... love that he made Bart juggle billiard balls.


Dragon playing pool by Andy Lee
MegaCon 2003 again. If you get the chance, get Andy Lee to do something for you.
He's fast and extremely affordable.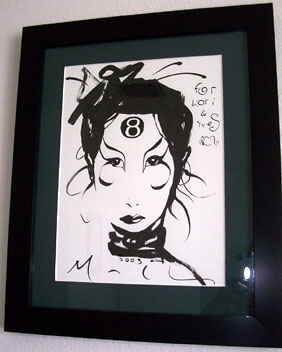 Kabuki by David Mack
Mrs.SGG loves Kabuki. She had to get Mack to draw it for her at MegaCon 2003.
Again, like Andy Lee, Mack is fast and affordable.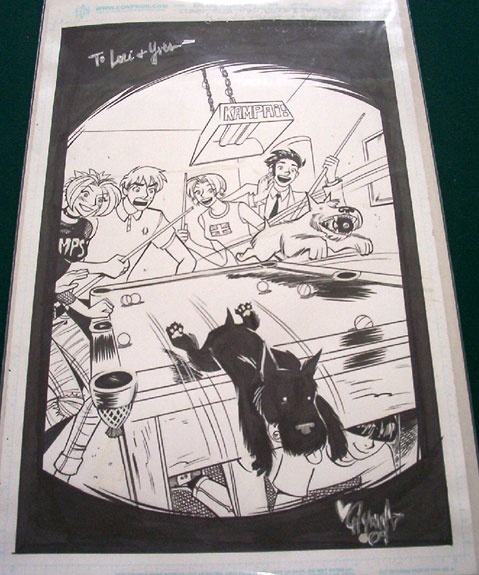 Blue Monday Gang by Chynna Major-Clugston
This piece is ONE OF A KIND. A good friend of ours commissioned Chynna to draw this for us. She doesnt even have a scan of it yet, i need to send her one.
The 2 dogs in the pics are our 2 Mini Schnauzers, Scooter (the white one) and Radar (the black one named after the M*A*S*H character)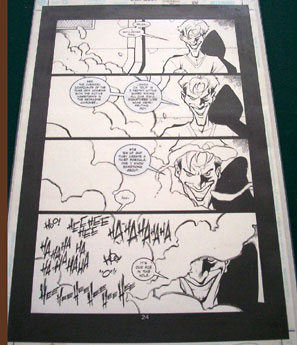 Joker's Last Laugh by Pete Woods
I got this at MegaCon 2003 from Andrew Pepoy, who inked the page. Got a great deal and bought a page of Robin 101 with Bats and Spoiler (which i didnt snap, doh!)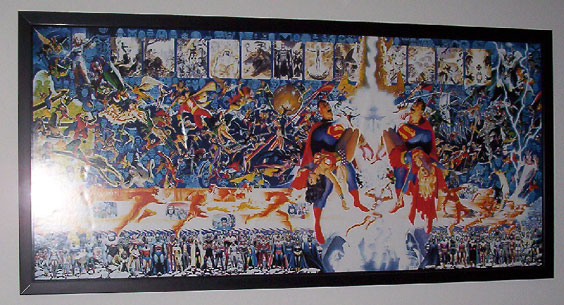 Crisis on Infinite Earths by George Perez and Alex Ross
This was a must have. I bought it when i was managing the store and it took 3 years to have it frame.
A year after it was framed, it started to bubble... we tried to have it fix and they messed it up more... which resulted in getting ALL our money back...
As soon as i find another, i'll get it replaced.
It's sitting above the living room couch.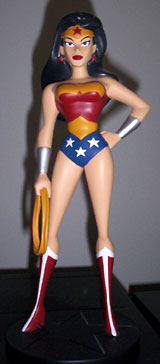 Wonder Woman Maquette
Purchased at the same time as the Gotham Knights cel above.
By purchasing it, we saved 40% off the 2 items... which was ALOT of money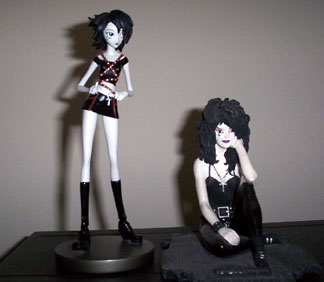 Death statues
The right one is the original Death statues, hard to get
The left one, is the Manga Death based on Jill Thompson's Manga books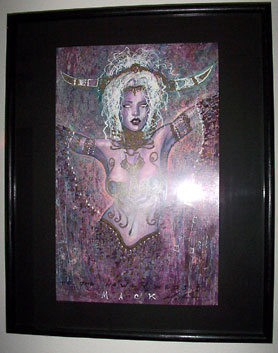 Kabuki print by David Mack
Another piece of Mack's art. This only a print which we framed. It actually says "congrats newlyweds" on it. We had just gotten married when we got it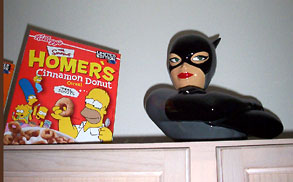 Catwoman cookie jar
Sitting on top of our cabinets, between cartoon cereal boxes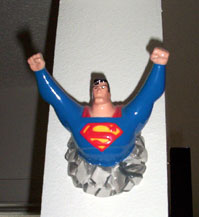 Busting Superman
When i saw this little ceramic thing, i had to have it. It looks so cool, just like Sups is busting through the wall :)